RedEagle
Digital Multi Channel Analyzers
RedEagle is a compact, standalone 32k MCA (Multichannel Analyzer) that integrates signal conditioning, fast ADC, digital processing, and HV power supply. Suitable for high-energy resolution detectors like HPGe and Silicon, as well as scintillation detectors such as Nal and LaBr3. It supports Pulse Height Analysis (PHA), Multichannel Scaling (MCS), and Multispectral Scaling (MSS) modes, allowing for efficient data collection. RedEagle also offers I/O connectors for enhanced functionality and features an OLED display for real-time statistics and HVPS channel output details.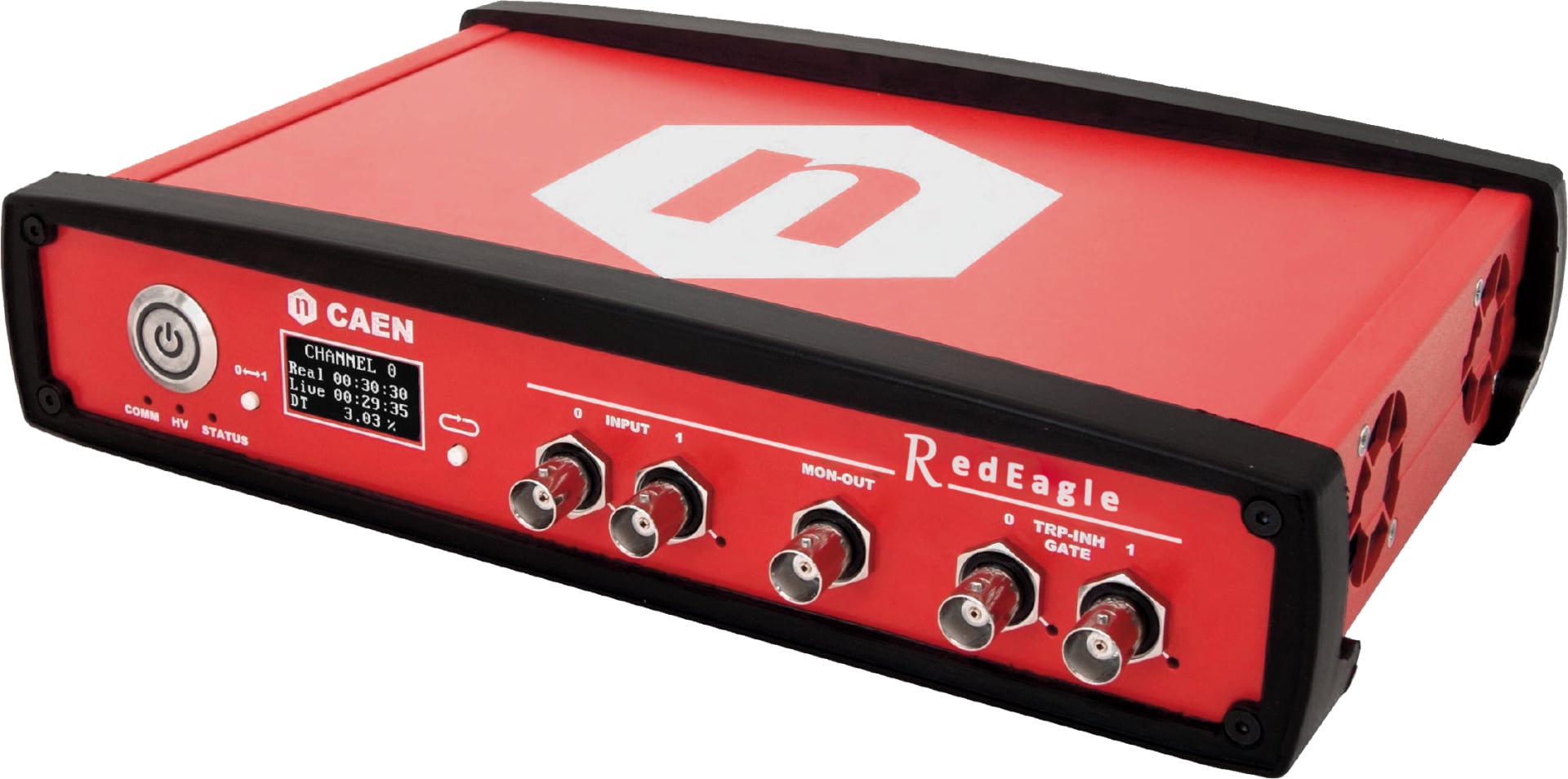 HawkEye Digital
MCA Tube Base for Gamma-Ray Spectroscopy
HawkEye is a portable gamma ray spectroscopy system with integrated MCA. It eliminates cables by incorporating an active MCA in a 14-pin PMT base. It supports various detectors and operates standalone with an internal battery. Remote control is possible via Ethernet, USB, Bluetooth, or Wi-Fi. Gain stabilization algorithms compensate for temperature variations. The system offers data logging, remote control, and analysis software for comprehensive functionality.
CondorEight
Octal Digital Multi Channel Analyzer
CondorEight is a Octal 32k digital MCA designed for high-resolution semiconductor detectors. It offers selectable gain and dynamic ranges, compatibility with Transistor reset preamplifiers, and advanced firmware algorithms for signal processing. It enables coincidence and anticoincidence logic and provides energy, time stamp, and digitized pulse. It is supported by CoMPASS DAQ software. CAEN provides drivers and libraries with demo codes too.